UK retail sales fell a record 5.1% in March as many stores shut up shop in the face of the coronavirus lockdown.
The figures from the Office for National Statistics (ONS) show the steepest sales fall since it started collecting the data in 1996.
Food and online shopping rose, and alcohol sales also jumped. But clothes sales tumbled by 34%.
Online shopping as a proportion of all retail reached a record high of 22%, the ONS said.
"Retailers are in crisis mode as the impact of Covid-19 has obliterated sales to new record-lows," said Richard Lim, chief executive of Retail Economics.
Off-licenses, which were added to the government's list of essential UK retailers last month, saw sales rise 31.4% in volume terms, although with most drinkers buying from supermarkets, they only contribute less than 1% of alcohol sales.
The data comes amid dire estimates for the performance of the UK economy amid the lockdown.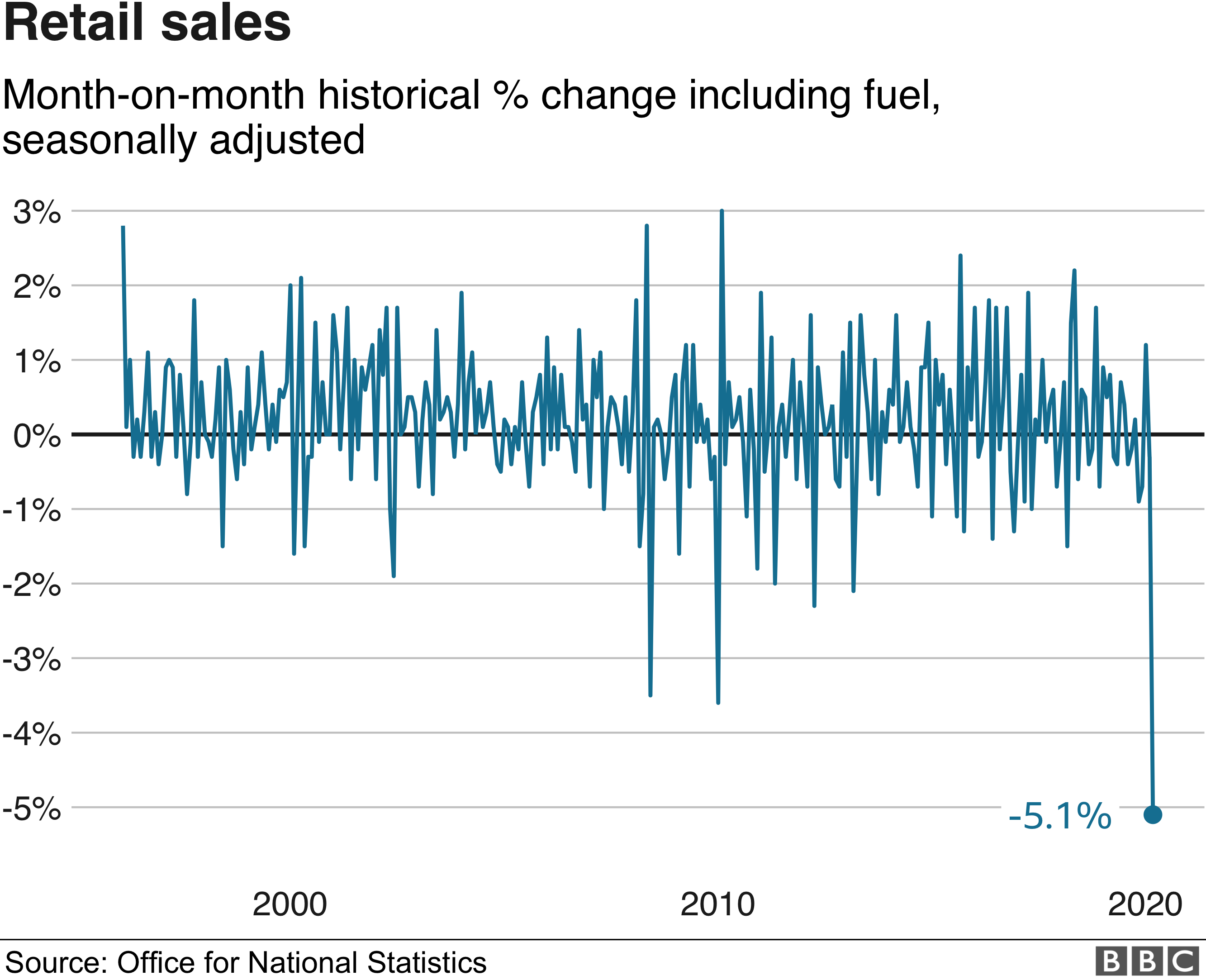 Yesterday, one of the Bank of England's top policymakers warned that the UK faces its worst economic shock in several hundred years.
'Responsible retailers'
Jan Vlieghe, a member of the BoE's interest-rate setting committee, said that "early indicators" suggest the UK was "experiencing an economic contraction that is faster and deeper than anything we have seen in the past century, or possibly several centuries".
He did, though, say there was "in principle" a good chance that the UK would return to its "pre-virus trajectory once the pandemic is over".
But for many shops, it is too late. In the year to date, Oasis, Warehouse, Debenhams, Laura Ashley, and Cath Kidston have collapsed, and while some shops will be salvaged, many will be gone for good.
Excluding fuel, sales dropped 3.7% compared with February, a record for retail data collection going back to 1988.
Food sales rose a record 11% as households stocked up and restaurants closed.
For industries like retail, customer behaviour may never be the same.
"We don't expect the pattern of post-lockdown spending to be exactly the same as before, with our latest survey indicating that consumers intend to reward more responsible retailers," said Lisa Hooker, consumer markets leader at accountants PwC.
"Particularly those who looked after their staff, and shop more on their local high streets and with smaller or independent retailers, giving some more hope to many of the hardest-hit operators."
Source